7 Top Decentralized Finance (DeFi) Lending Platforms – A Comprehensive Guide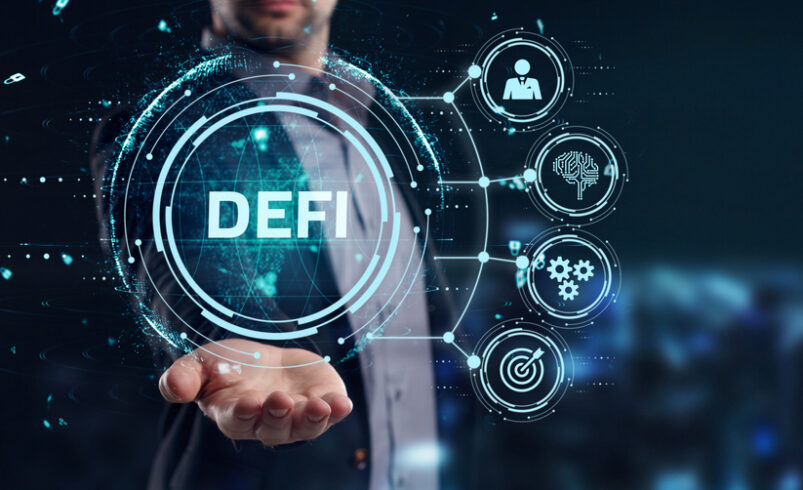 Decentralized finance projects offer financial services similar to those provided by institutions in the traditional finance sector. Lending and borrowing are some of the services available. This article explores some of the best DeFi platforms for crypto lending.
Understanding Decentralized Finance (DeFi) Lending
Decentralized finance lending happens on protocols built on blockchain networks. Unlike banks, these apps lack central authority, allowing users to transact directly with each other. The DeFi market has seen exponential growth over the last three years, according to data from DefiLlama. As of September 2023, the Total Value Locked in DeFi platforms stands at $45 billion.
To start lending other DeFi users your crypto assets, you will need to lock your funds in a particular liquidity pool. This allows you to earn passive income through loan interest. So, how do traditional finance and decentralized finance rates compare? Although investing in DeFi is highly risky, expect to earn a higher interest rate than that offered in the TradFi sector.
Top 7 DeFi Lending Platforms
Bake
Previously known as Cake DeFi, Bake is a crypto company headquartered in Singapore. U-Zyn Chua and Julia Hosp founded the decentralized finance project. The latter serves as the firm's CEO while the former as CTO.
Besides lending, Bake offers other services like liquidity mining, yield vault, and staking. The platform's interface is easy to use, letting both novice and experienced crypto investors navigate it seamlessly. Borrowers can deposit USDC, USDT, DFI, ETH, and BTC as collateral.
Summer.fi
Initially called Oasis.app, Summer.fi has been a top decentralized finance platform over the years, allowing users to borrow the DAI stablecoin. As of September 2023, the app is available on Ethereum and layer-2 solution Optimism. You can deposit ETH, WETH, and WBTC as collateral. The borrowed DAI is immediately burned after you repay your loan.
dYdX
Along with allowing users to borrow crypto assets, dYdX is a well-known Ethereum-based decentralized exchange offering spot and margin trading. It was created by Antonio Juliano in 2018. Through dYdX, you can borrow loans in 37 different assets. You will be required to deposit USDC as collateral.
Aave
Aave is undoubtedly one of the most popular decentralized finance protocols. It was founded in 2020. One fantastic aspect of this platform is its ability to adjust interest rates based on the current demand and supply in a certain liquidity pool. Aave lives on Arbitrum, Ethereum, and five other blockchains.
Once you lock funds in the app's liquidity pool, you will receive aTokens equivalent to the deposited amount. Interest rate rises when more Aave users own aTokens. As a borrower, you can deposit 11 cryptocurrencies, including Ethereum, as collateral.
Compound
Compound is among the oldest DeFi protocols, allowing users to deposit 12 crypto assets as collateral to borrow loans in 16 various digital currencies. When you become a liqudity provider, you will be issued COMP tokens, which let you participate in the governance process of Compound. This decentralized finance platform is only available on the Ethereum blockchain.
MakerDAO
You can only borrow the DAI stablecoin on MakerDAO. The DeFi platform accepts ETH along with 14 other crypto assets as collateral. Liquidity providers receive a portion of the earnings collected in the form of interest rates. Note that if you borrow DAI and your collateral drops below the required level, you will be charged a 13% fee to recover the loss.
Yearn Finance
Since 2020, Yearn Finance has been giving users access to various DeFi services, including yield farming, lending, and borrowing. Prominent Web3 developer Andre Cronje is the man behind this protocol. Liquidity providers earn interest rates in the form of YFI tokens. Yearn Finance lets users deposit Ethereum and other 69 cryptocurrencies as collateral.
Final Thoughts
The decentralized finance sector has zero barriers to entry, thus allowing anyone to lend or borrow crypto loans. This explains why the space has become popular among investors in recent months.
The lending platforms we've discussed in this guide are well-known within the crypto walls and offer DeFi services that suit the financial needs of all users. Nonetheless, doing your homework before using any of them is crucial.
---
Disclaimer: PrimeCryptoHub.com is committed to delivering premium content for cryptocurrency aficionados. Our platform serves as a hub for crypto businesses to amplify their visibility in the market. Be aware that the nature of cryptocurrencies and digital tokens is extremely fluctuating. We advise carrying out comprehensive analysis prior to investing. A portion of our articles might be contributed by guest authors or be sponsored, and the opinions expressed in them don't always echo our stance. PrimeCryptoHub.com holds no liability for the accuracy, content quality, advertisements, products, or any additional materials found on our site.
---