Crypto Vs.Stocks – Where Should You Invest Your Money?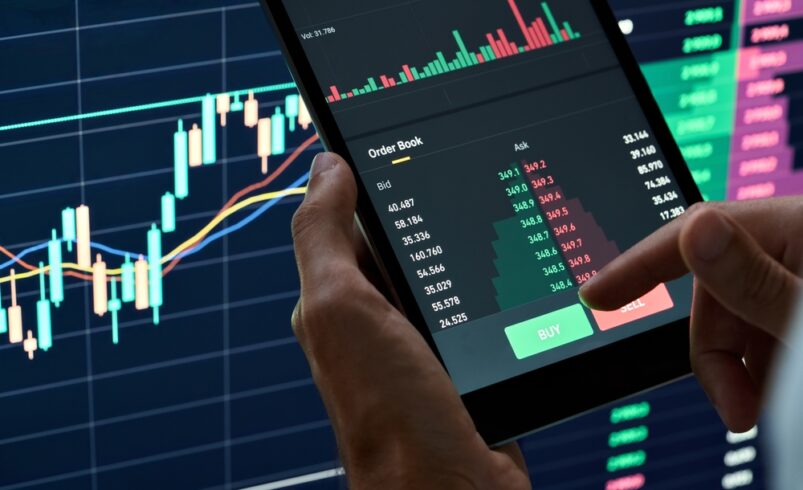 For many years, stocks have dominated the investment sphere. However, they are currently competing with cryptocurrencies, which tend to be highly volatile. This article explores the two investment options. We will discuss their similarities and differences and the better choice between them.
Stocks vs. Crypto: Similarities and Differences
Cryptocurrencies and stocks both provide massive investment opportunities. However, they differ in several ways.
The Underlying Technology
When you buy stocks of a particular company, you become part of its owners. That firm is involved in tangible business operations and relies on the traditional financial system for its transactions.
On the other hand, cryptocurrencies are digital currencies living on decentralized networks. They serve a number of purposes, including facilitating fast transactions, and can be used as a store of value.
Regulation
In terms of regulation, top-tier authorities regulate the stock market, which operates through established trading platforms like LSE or NYSE. Conversely, the crypto market is largely unregulated, meaning fraud cases are rampant.
Risk Factors
Crypto assets are highly volatile compared to stocks. Their prices are mostly influenced by market sentiment and speculative trading. On the contrary, stocks are less volatile, and the financial performance of their companies influences their prices.
Utility
Stocks offer dividends to shareholders. Moreover, they grant them voting rights. However, stocks can only be traded within certain hours and days. On the contrary, crypto assets can be exchanged 24/7 but don't offer dividends. Note that some cryptocurrencies grant holders voting rights.
In summary, both crypto and stocks offer investors a chance to make huge profits. However, the two investment options come with their risks. All said, the decision to invest in crypto or stocks depends on your risk tolerance and financial objectives.
Crypto Stock Defined
Although this guide compares stocks and crypto, it is important to discuss crypto stocks. Simply put, a crypto stock is an equity share of a firm that operates in the crypto industry. Such stocks offer traditional investors exposure to the crypto space without owning a digital currency.
Crypto stocks can be offered by different types of crypto companies, including exchanges, mining farms, and decentralized apps.
Process of Investing in a Crypto Stock
Step 1: Learn the risk involved. Since crypto stocks belong to firms operating in the crypto space, their prices are subject to high volatility. Therefore, you should understand that the stock value can drop below your buying price at any time.
Step 2: Select your investment. This means deciding on the crypto stock you wish to invest your funds into based on your investment objectives and risk tolerance.
Step 3: Register with a brokerage firm and buy your crypto stock. Find a regulated broker and set up an account for buying and selling your crypto stock.
Platforms for Stock and Crypto Trading
Before opening a trading account with any platform, consider factors like regulatory protection, transparency, and security.
If you wish to invest in the stock market, you will need to open an account with a brokerage regulated by top financial authorities such as the US Securities and Exchange Commission. Through that brokerage, you can purchase and sell stocks.
When it comes to making crypto investments, the process differs from that of stock investing. Instead of a brokerage, you use a crypto exchange to buy and sell digital assets.
It is worth mentioning that it's possible to invest in stocks and cryptocurrencies using a multi-asset trading platform like AvaTrade and eToro. Let's explore the two platforms.
eToro
eToro is recommended for beginner investors since it has an active community of seasoned investors, allowing those with less experience to learn different investment strategies. Moreover, successful traders let other eToro users follow their trades.
AvaTrade
Being one of the oldest brokers, AvaTrade has proven to be a reliable platform for investors over the years. Like eToro, AvaTrade users can also copy trades of experienced traders. You can invest in various financial instruments, including crypto assets, forex, and CFDs.
---
Disclaimer: PrimeCryptoHub.com is committed to delivering premium content for cryptocurrency aficionados. Our platform serves as a hub for crypto businesses to amplify their visibility in the market. Be aware that the nature of cryptocurrencies and digital tokens is extremely fluctuating. We advise carrying out comprehensive analysis prior to investing. A portion of our articles might be contributed by guest authors or be sponsored, and the opinions expressed in them don't always echo our stance. PrimeCryptoHub.com holds no liability for the accuracy, content quality, advertisements, products, or any additional materials found on our site.
---