How to Buy PEPE Using a Credit Card – A Complete Beginner's Guide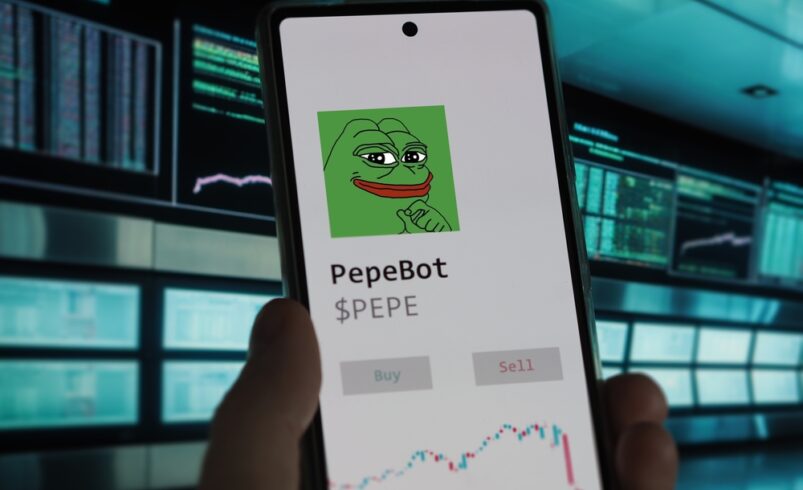 One of the memecoins that has seen massive adoption in 2023 is PEPE. Do you wish to buy the token using your credit card? This guide is for you. Keep reading to learn how to use your credit card to buy PEPE on a centralized exchange (CEX).
Exploring PEPE
Launched in April, PEPE is a popular memecoin that drew inspiration from an internet meme called Pepe the Frog. The meme was created by Matt Furie, a well-known cartoonist. But it is worth pointing out that he doesn't have any association with PEPE.
Like many other memecoins, PEPE does not have any utility. Still, the buzz around the token has attracted several investors who hope its price will jump in the coming months.
PEPE Tokenomics and Market Performance
According to data from CoinGecko, PEPE's total supply cap is at 420.69 billion tokens. All the tokens are now in circulation. Moreover, the Memecoin has a market capitalization of $268.98 million. The team behind PEPE currently holds 6.9% of the total supply, while investors own the remaining percentage.
In regard to the memecoin's market performance, it surged 4,000% in May, a few days after launching. PEPE peaked at $0.0000043, a price it has yet to retest. As of this writing, the token changes hands for $0.0000000551.
Now, let's show you how to buy PEPE using your credit card.
A Step-by-Step Guide to Buying PEPE With a Credit Card
Most centralized exchanges that list PEPE support a wide range of payment methods, including Google Pay, debit/credit card, Apple Pay, and bank transfer, which you can use to buy the memecoin. However, for the purposes of this guide, we will teach you how to purchase PEPE on Binance using a credit card.
The first step to buying PEPE with a credit card involves opening and verifying your Binance account. To complete the verification process, you are required to provide a selfie and a government-issued document like a driver's license or identification card.
After gaining access to your Binance account, click "Wallet" and then "Buy." The crypto exchange will direct you to another page where you will enter the amount of fiat, usually USD, you wish to spend on crypto. Note that you cannot buy PEPE directly with a credit card. Therefore, you will use the card to buy USDT.
Once you enter the amount of USD you want to spend and select USDT as the crypto token to be received, click "Buy USDT." Binance will display the supported payment methods and the amount of USDT you will receive depending on the payment option selected.
Press the "Pay With Card" button and then enter the details of your credit card. Binance allows you to add a maximum of five credit cards. After providing the required information, tick the terms and conditions checkbox and then click "Confirm."
You will receive a one-time password from your bank. After keying it in, press "Submit." Within a few seconds, Binance will display a pop-up message informing you that your USDT purchase was successful and that the tokens are available on your account.
Now, it is time to use the USDT to buy PEPE. To do this, transfer the USDT tokens from funding to the spot wallet. After that, click "Trades" and look for the PEPE/USDT trading pair. Press "Buy" and enter the amount of USDT you want to spend on PEPE. Once done, select your preferred order type and hit "Buy PEPE." If you are a beginner, we recommend choosing the "market" order type to receive your PEPE tokens quickly.
Top Wallets for Storing PEPE
After purchasing PEPE, the tokens will be available in your Binance account. But, centralized exchanges are not recommended for storing crypto assets. Therefore, we advise you to find a reliable, non-custodial wallet to store your PEPE tokens. Crypto wallets that support PEPE include Trust Wallet, MetaMask, Ledger, Coinbase Wallet, and many more.
Final Thought
Unlike other crypto assets, memecoins are known to be highly volatile. So, if you are a conservative investor, PEPE is not the right investment for you. Finally, remember to store your PEPE tokens in a self-custody wallet to have control over them.
---
Disclaimer: PrimeCryptoHub.com is committed to delivering premium content for cryptocurrency aficionados. Our platform serves as a hub for crypto businesses to amplify their visibility in the market. Be aware that the nature of cryptocurrencies and digital tokens is extremely fluctuating. We advise carrying out comprehensive analysis prior to investing. A portion of our articles might be contributed by guest authors or be sponsored, and the opinions expressed in them don't always echo our stance. PrimeCryptoHub.com holds no liability for the accuracy, content quality, advertisements, products, or any additional materials found on our site.
---